Golf Club Franciacorta at Lake Garda
Wine lovers will know the name Franciacorta, after all, this area is known as the Italian Champagne. It's not only known for producing delicious, and high-quality Spumante, but it's also known to golf lovers who come here for a special treat.
The surroundings
HHarmoniously nestled in a lovely landscape with small lakes, streams and spectacular views, in the midst of a former wine-growing region, the Golf Club Franciacorta is about half an hour from Lake Garda. The 27-hole golf course has three 9-hole courses: Brut, Saten and Rosé. The first two form the championship course. It offers ideal golfing conditions and has peculiar characteristics as every single hole is unique.
The Golf Clubhouse

The spacious clubhouse also includes a bar, a restaurant, spa rooms, two swimming pools, two tennis courts, trolley and golf cart rental, driving range, putting green and chipping green. In the Pro-Shop Franciacorta by Michela Comelli, you get golf equipment of the most popular brands. Another highlight is the Bridge Club.
The Golf Club Franciacorta offers golf all year round thanks to the mild climate near Lake Iseo. Also, you'll find first-class accommodation near the golf course.
Scorecard - Golf Course "Brut"
| | | | | | | | | | | | |
| --- | --- | --- | --- | --- | --- | --- | --- | --- | --- | --- | --- |
| BUCA/HOLE |   | 1 | 2 | 3 | 4 | 5 | 6 | 7 | 8 | 9 | OUT |
| Uomini | Bianco/White | 445 | 345 | 301 | 395 | 196 | 450 | 310 | 475 | 155 | 3072 |
| Men  | Giallo/Yellow  |  418 | 336 | 292 | 336 | 176 | 441 | 301 | 466 | 146 | 2942 |
|   |   |   |   |   |   |   |   |   |   |   |   |
| Donne | Blu/Blue | 404 | 305  | 250  |  350 |  163 |  390 |  270 |  430 |  140 |  2702 |
| Women | Rosso/Red |  382 |  296 |  241 |  341 |  154 |  381 |  261 |  421 |  131 |  2608 |
|   |   |   |   |   |   |   |   |   |   |   |   |
| PAR |   | 5 | 4 | 4 | 4 | 3 | 5 | 4 | 5 | 3 | 37 |
| HCP |   | 6 | 10 | 12 | 2 | 8 | 14 | 16 | 4 | 18 |   |
Opening hours
Every day 9 am - 7 pm
except for winter Tuesdays (from October 1st to March 31st)
Restaurant "Bistrò del Golf"
Closed on Tuesdays
Accepted credit cards: Visa, Mastercard, Maestro  
Tel.: +39 030 984673
Contact & more information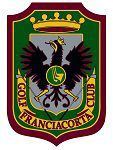 Golf Club Franciacorta
Via Provinciale 34/B
I-250 40 Nigoline di Corte Franca (BS)
+39 030 98 41 67
www.franciacortagolfclub.com
Here you'll find the right golf hotels at Lake Garda